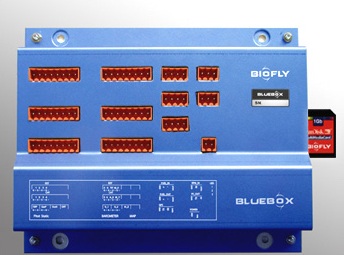 The Bluebox, product by Biofly S.r.l., it's a "Digital Flight Data Recorder".
It integrates full data acquisition with recording function including flight data, engine parameters and GPS data with MovingMap, its recording capability can contain data referring to 360 flight hours corresponding to one Gbyte.
The recorded data can be recalled by removing the MMC or using a display or a tablet pc (Bluebox use only Windows XP).
The Bluebox have an internal battery that allows to record data until 20 secons after a power failure.
The Bluebox can be used with the Blue Efis SVS product.
Download
• BlueBox brochure versione Standard
• BlueBox brochure versione Leggera