The Smart Controlled Biofly, hence the acronym "SCB", are lights signalation devices with high efficiency LED lights controllable remotely through a wireless comunication ZigBee module and powered by photovoltaic panels.
Arise from the need to provide the pilot of a message immediately noticeable, that aids in a critical path, even in low visibility conditions and in the presence of other moving vehicles. The aircraft equipped with transponders, or other means to communicate through radio frequency, or even a simple enabled phone to send text messages, sends its data identification, position, velocity and / or direction and makes contact with the unit master on the ground, able to incorporate the information, process it and transmit it to other nodes to generate a visible light signal from the pilot.
Main features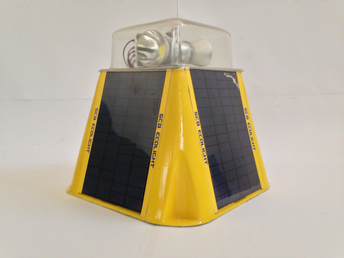 Dimension 345 x 255 x 255 mm
Color Yellow RAL 1023
Weight 6kg
Battery Pb gel rechargeable x 2 kg for 12V and 9Ah
Photovoltaic panels 56 cells 25 x 17 cm for 5W with 1000 w/mq
Zigbee Module Range 3km with ISM at 2.4 GHz


Certifications / Compliances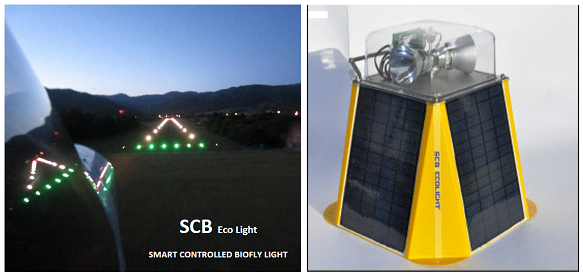 The SCB Eco-Light have ENAC certification APS-04 1° edition 2013 (Protocol number 0075365/CIA);
The SCB Eco - Light are in accordance with the following regulations: •FAA AC 150/5345-50B - Specification for Portable Runway and Taxiway Lights (20th September, 2007);
AC 150/5345-46C - Specification for Runway, Taxiway Light Fixtures (12nd September, 2006)
•ICAO Annex 14 - Volume 1, Aerodrome - 4° Ed. (July, 2004);
Annex 14 - Volume 2, Heliports - 3° Ed. (July, 2009);
DOC 9157 AN/901 Aerodrome Design Manual Part. 6 frangibility 1° Ed - 2006.
•ENAC?Regolamento per la Costruzione e l'Esercizio degli Aeroporti - 2° Ed. - Emendamento 4 del 30 gennaio 2008;
Regolamento per la Costruzione e l'Esercizio degli Eliporti (Ed. #1 del 20th October, 2011);
Circolare APT - 28 Criteri di Accettabilità dei Dispositivi Aeroportuali (28th January, 2008);
Manuale dei Criteri di Accettabilità per gli Aiuti Visivi Aeroportuali - 1° Ed. (27th July, 2005).
References

Our A.V.L. are tested and certified by Aeronautica Militare at the C.S.V. (Experimenal Flight Center) of Pratica di Mare (Rome) military Airport
SCB Eco Lights are successfully installed and tested on the following airports, airfields and heliports: •Lido of Venice Airport (Venice)
•Bresso Heliport (Milan)
•Urbe Airport (Rome)
•Sansepolcro(AR) airfield and helipad
•"Le Grugnole" Airfield at Nettuno (LT)
•Lateranense University of S. Giovanni in Laterano (RM)

SCB RTIL (Runway Threshold Identification Lights)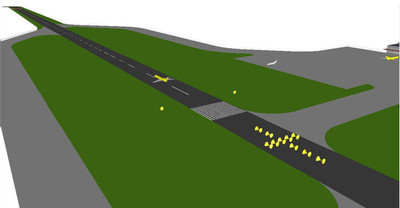 The SCBs Runway Threshold Identification Lights are flashing lights with a flash frequency between 60 and 120 per minute, and the SCBs lights are visible only in the direction of approach to the runway.
This kind of SCB are equipped with an omnidirectional white LED
SCB REL (Runway Edge Lights)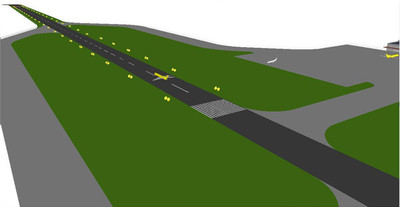 Gli SCB REL sono luci bianche fisse utilizzate come luci di identificazione del bordo pista. Questi indicatori devono essere uniformemente disposti parallelamente sui bordi della pista e distanziati tra loro non più di 60 metri.
Questi SCB sono dotati di due tipologie di gruppi ottici, la luce omnidirezionale di bassa potenza, posta sulla sommità della cupola, e la luce bi-direzionale in direzione della pista.

SCB RTE (Runway Threshold End)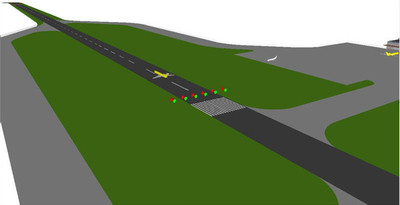 The SCB RTE, as runway threshold, runway end lights, are provided for a runway equipped with runway edge lights except, for runway threshold, on a non-instrument or non-precision approach runway where the threshold is displaced.
The SCB has a green and red fixed unidirectional lights in the direction of approach to the runway.
.
SCB TEL (Taxiway Edge Lights)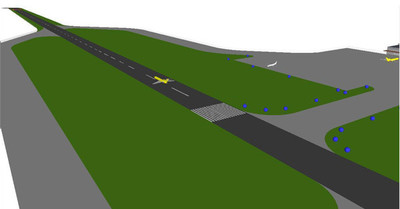 The SCB TEL, as taxiway edge lights, are provided at the edges of a runway turn pad and holding bay.

Download