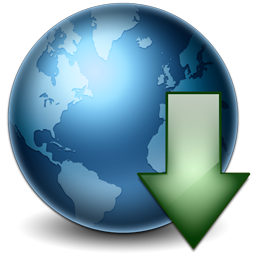 Eco Light Wind Cone: Solar Powered windsock Led illuminated
Solar Windsock Light Kit provides users with a complete, reliable and low maintenance solution to windsock illumination.
The indicator is made of a truncated cone in a water repellent lightwieght fabric. The dimensions are 2.4 m long, 0.6 m diameter (large end), and 0.3 m diameter (small end).
The colours are white/red and are clearly visible and undestandable from a height of at least 200 m (650 ft) above the ground. The wind direction indicator is illuminated for night use with solar powered lights automatically from dusk till down.
The lights are capable of visible LED and near IR(*) for night vision goggles compatibility (*optional). Switching between visible LED and near IR will be done with the Remote Control Unit.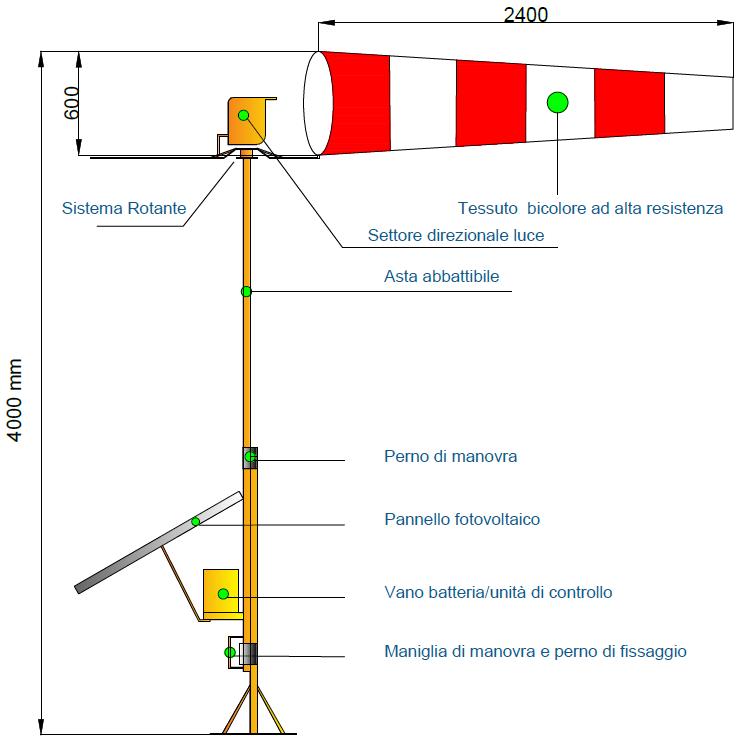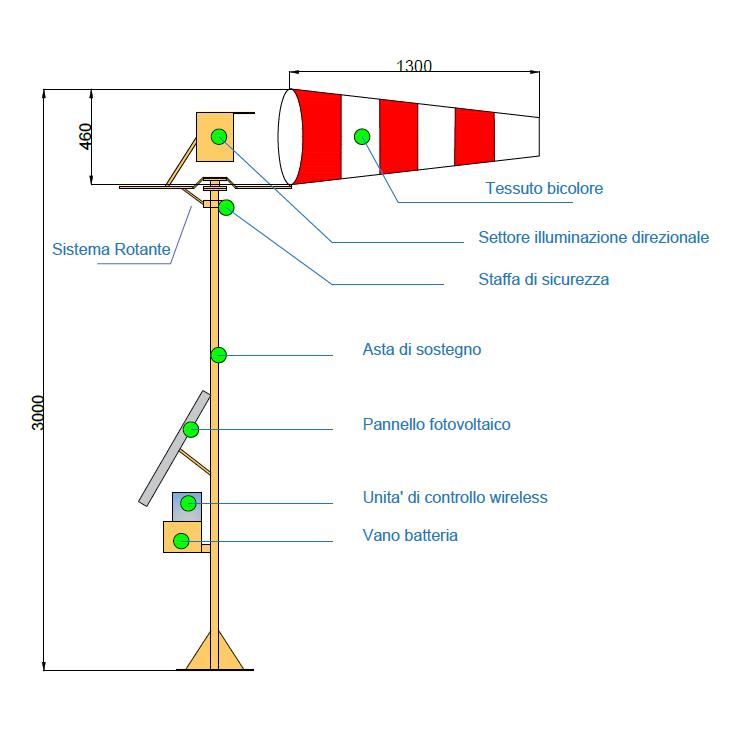 Wireless - Solar Powered
The internal rechargeable sealed battery hold enough charge to operate the wind sock lights for a minimum 45 hours without any recharging.
After this 24 hours period the solar panels are capable of completely recharging the battery, with the lights operating, in 12 hours period of full sunlight such that the lights can operate for another 45 hours period without recharge.
Mounting Pole
The mounting pole are made of durable rugged construction, capable of operating in the environmental conditions. The mounting pole are capable of being setup and taken down quickly.
Wireless Remote on-off
Remote on-off switch on ground or in flight via mobile-phone.
Wire free-quick mounting
Windsock lighting kit can be installed immediately and requires no costly underground wiring.
The windsock is able to be installed elevated on rooftop or terrace and on the ground floor.
Obstruction Light
An obstruction light (optional) is mounted on the top of the windsock mounting pole and is compliance with the operating specification details of the Obstruction Lights ICAO rules.