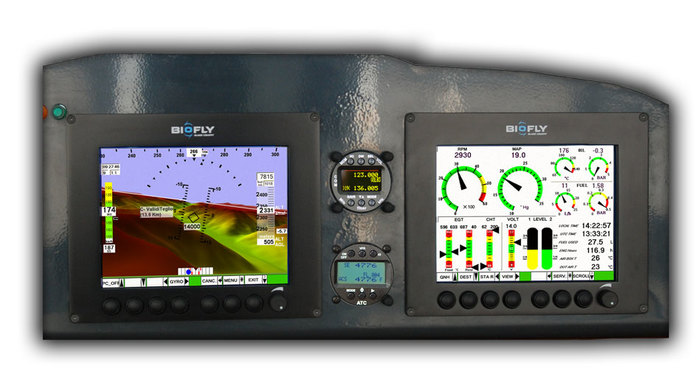 One of the largest causal factors of aviation incidents is poor situation awareness in low visibility conditions.
Low visibility forces pilots to become the integrators of disparate forms of data and information as well as fly their aircraft. Low-visibility induced incidents include controlled flight into terrain, runway incursions, and those due to flight path navigation errors.
Loaned from the NASA project of "Synthetic Vision System", for the first time ever, the Biofly research and development department brought the SVS to the wide range of the light sport aircraft (LSA) industry; increasing safety and operational benefits in normal and low visibility conditions.
The BLUE EFIS SVS® system is an integrated display concept that incorporatesfeatures of a primary flight display and navigation display superimposed on arepresentation of terrain and may also include displays of information from sensors.
The operational concept is described in terms of the operational functions of the system,the elements of the display support some specific applications in the ground operations, departure, en route and approach phases of flight.
The Synthetic vision gives to the Pilot the "Total Situation Awareness" with fundamental elements like: reliefs, artificial obstacles, airstrips, controlled airspaces.The package is supplied with the Bluebox gyro module, bundled with Biofly's high resolution 16 channel GPS receiver; complete EFIS software with Flight Data /Engine Parameter/Attitude/Diagnostic and Data logger.
Download