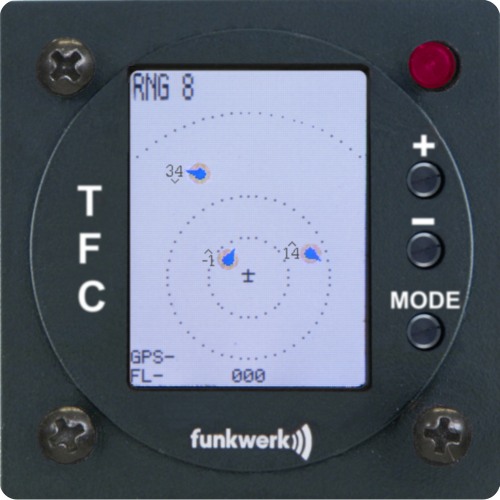 The TM250 is the first traffic monitoring solution for General Aviation which combines Mode-S, ADS-B and FLARM in a single unit.
The built-in receiver decodes ADS-B transmissions from other aircraft. Their relative position is shown on the display together with their horizontal and vertical direction of movement. This allows an instantaneous capture of the traffic situation.
Aircraft equipped with Mode-S transponder not broadcasting ADS-B messages are recognized as well, their approach is signalled both visually and acoustically. Also gliders equipped with a Flarm transmitter are detected and signalled.
•compact traffic monitoring and warning system
•integrated GPS, Mode-S and Flarm receivers
•Reception of ADS-B position reports via Mode-S
•Complete ADS-B solution if used in combination with extended Squitter-capable transponder (e.g. Funkwerk Avionics TRT800A/H)
•Shows ADS-B traffic in the vicinity up to 16nm
•Proximity warning for all Mode-S equipped aircraft and Flarm (gliders)
•Acoustic warning by internal buzzer and via external units (e.g., Funkwerk ATR833)
•5.3cm (2.1") colour display, 57 mm standard housing
•Low power consumption
•Easy operation

Weight & measurement
Dimensions 160x41x176mm
Weight ca.900g

Technical Data
Voltage 13,75/27,5V DC
Current ca. 250mA
Connectors GPS (BNC) 1090 MHz, FLARM (SMA), PC (Mini-USB)


Download